Featured Floor Heating Products
Video
Why Choose ThermoTile
Specification
Installation
Accessories
Discover ThermoFloor™
Manufactured by ThermoSoft, a

BBB Accredited Business, rated "A+"

Advanced overheat protection.

We use our FiberThermics™ heating wires with self-limiting properties to eliminate overheating of the radiant under tile floor heating mats.

"Zero EMF"

(electromagnetic field). ThermoTile® radiant floor heating systems are manufactured, unlike any other electric floor heating system, with both a current return wire AND an inner foil wrap to eliminate EMF risk. This eliminates interference with telephones, radios, pacemakers, hearing aides and television. Without these features, other electric floor heating systems can act as a huge static-causing antenna under your heated floor.

Installation-friendly 10' armored and grounded lead wires

are pre-attached to one end of the 1.5' wide radiant floor heating mat. You don't need to worry about where the in floor heating mat ends! Just cut the mesh and turn it any way to fit your floor space for warm tile anywhere.

Four insulation layers

including an outer alkaline and acid resistant Nylon layer that protects against moisture and mechanical damage in your under tile heating system.

Commercial-grade fiberglass mesh

that holds the heating cable flat for fast and easy installation and also acts as an anti-fracture membrane increasing floor strength.

Installation under virtually any floor covering

, including ceramic or porcelain tiles, stone tiles, carpet or vinyl tiles, laminate, glued wood when imbedded in self-leveling cement.

ThermoSoft is a leading USA manufacturer with branches worldwide

UL Listed

in both the USA and Canada. So there is no need to settle for other under tile heating systems that claim UL approved components only.

Lifetime Warranty

that can be transferred homeowner to homeowner¹

Made in the USA

and

ships same day

or

next business day.
Power supply:

120V and 240V

Max coverage per single thermostat:

150 sq. ft. (120V) or 300 sq. ft. (240V)

Max Power Load:

12W/sq. ft.

Diameter:

< 1/8"

Conductor:

Dual, allows virtual eliminating of Electro-Magnetic Field (EMF).

Insulation:

four (4) layers, including inner cross-linked polymer insulation, foil shield with polyester insulation,


special FR polymer insulation and outer nylon insulation.

Ground:

100% protective ground shield.

Lead wire:

single 10 ft connection lead (from one end of the mat only)

Certifications:

UL and CSA certified system for use in USA and Canada.

Warranty:

Lifetime & transferrable from owner to owner upon contacting ThermoSoft.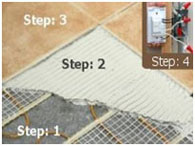 Whether you'd like to enjoy radiant floor heating in your kitchen, bathrooms, family room or anywhere else,
simply plan your installation and take these 4 simple steps:
Layout the mat and install temperature sensor
Spread thin-set mortar
Lay tile
Connect thermostat
Click here for more details on installation.

We carry many types of radiant floor heating thermostats from world's largest manufacturers
with floor sensors and both floor and room (air) sensors.
Read more...

ThermoSoft offers widest selection of different accessories,
which will make your installation process like a charm!
Click here to find out more about them...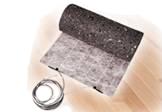 ThermoFloor™ is an only 3-in-1 (thermal insulation + sound protection + heating) radiant floor heating pad
exclusively designed for laminate, glue-down and floating hardwood and engineered wood floors.
Read more...
Click here >
Electric Floor Heating Systems Will Save On Your Energy Bills!
Electric radiant floor heating is by far more efficient way to warm floors than other heating systems.
It is a common misconception that electric heated floors will increase your energy bill. Unlike forced air systems, radiant floor heating systems do not waste heat in the ducts or at the ceiling.

Because you will feel warmer with radiant heat, the thermostat can be set at a lower temperature. You will enjoy the luxury of warm floor anywhere in your home while reducing energy costs up to 40% with ThermoSoft electric radiant in-floor heating systems. Read More ›
FREE GUIDE
"RADIANT FLOOR HEATING"
Everything you need to know
about heated floors!
(History, advantages and disadvantages,
hydronic vs. electric, E.M.F, B.T.U. and much more!)
Note: the guide will be sent to the provided e-mail address.
Please follow up with me to assist with my project planning or questions.