InstAlarm Monitor
Monitors radiant flooring mats for short or open circuits during installation. A must for do-it-yourselfers or anyone wanting peace of mind during the installation.
InstAlarm® is a radiant floor heating mat monitor that will sound an alarm during installation if the floor warming mat is damaged resulting in a short or open circuit.*
Connect InstAlarm® to your electric floor heat mats throughout the installation. Operates on a standard 9 Volt battery (included). Detailed operating instructions are provided. InstAlarm® is a "must have" for do-it-yourselfers and anyone who wants peace of mind during installation.
*InstAlarm® may not detect nicks in the heating wire that could cause GFCI tripping if the nick does not result in an open or short circuit.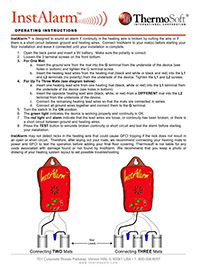 Click here for instructions
Checkout
Worry-Free Return Policy
With our industry leading return policy, you can order worry free knowing you can get 100% refund within 100 days of purchase.
Learn More

US & Canadian credit cards are accepted.

We also ship to Canada!
No brokerage fees!