We continue our service to you: Our sales, phone support and rapid fulfillment remain unaffected by COVID-19. Read more...

U.S. Manufacturer
SINCE 1996
Radiant Floor Heating Accessories
OJ Power Module
(120V Or 240V)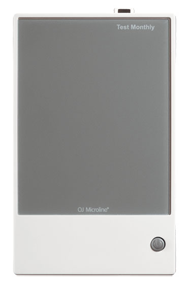 Be sure to match power module voltage to mat voltage.
Checkout
Click here to download instructions for this device.
Universal voltage power module (USG-4000): Suitable for 120V or 240V applications
15A Output Relay.
Max. load 120V = 1,800 Watts; 240V = 3,600 Watts
For use ONLY with OJ Electronics' UDG-4999 thermostats
Built-in Class A 5 mA GFCI with GFCI test light*
3 year manufacturers warranty
Dimension: 4.8x3.0x1.0 inches (123x75x25mm)
Made in Denmark
Easy Connections
Fits single-gang (2" box) box but a double-gang (4" box) is recommended for more room to work with multiple mats.
Backside connection box dimensions: 1.682"W x 2.686"H x 1.2"D
LINE wires: connect to 2 middle screws marked L1, L2.
LOAD (mat) wires connect to 2 screws marked LOAD 1800W/3600W MAX 15A.
Thermostat/power module connection: loosen bottom screws, lift off covers, insert minimum 20 AWG wire through oval hole in back of both components, connect thermostat A and B therminals marked "OUT" to power module C and D terminals marked IN/SEN.
---
Brochures, manuals and datasheets