We continue our service to you: Our sales, phone support and rapid fulfillment remain unaffected by COVID-19. Read more...

U.S. Manufacturer
SINCE 1996
Radiant Floor Heating Accessories
OJ Wi-Fi Touch Screen Thermostat
(120V Or 240V Programmable)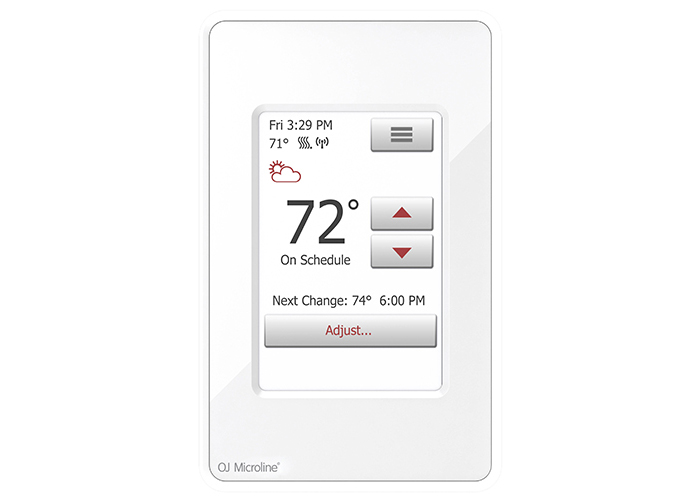 Be sure to match thermostat voltage to mat voltage.
Checkout
Click here to download instructions for this device.
Programmable WiFi Touchscreen thermostat
Universal voltage (UWG4-4999): Suitable for 120V or 240V applications
15A Output Relay.
Max. load 120V = 1,800 Watts; 240V = 3,600 Watts
Built-in Class A 5mA GFCI
3.5" Touch screen

Easy, intuitive programming
iPhone and Android apps
Remote access
Installation wizard

Power consumption can be saved in detail to your user account
Thermostat settings can be exported to web page for support
Universal compatibility with existing floor heating sensors
Suitable for all heated floor types
5 year battery backup of clock and calendar
3 year manufacturers warranty
Dimension: 5.1x3.2x0.8 inches (130x82x20mm)
Made in Denmark
UL Listed
Temperature Control
Temperature range: +32/+104°F (0/+40°C).
Floor protection laminate/wood: 82°F(27.5°C)
Floor protection tile: 88°F(31°C)
Accuracy: ±0.7°F/0.4°C
7 days, 1-6 settings/day
F° or C° scale.
Easy Connections
Fits single-gang (2" box) box but a double-gang (4" box) is recommended for more room to work with multiple mats.
---
Floor sensor included with each thermostat!
15ft (4.5m) cable
Proven quality
UL recognized
---
Brochures, manuals and datasheets