World's Only 3-in-1 Radiant Floor Heating Pad Under Wood, Laminate, Wall-to-Wall Carpet, Vinyl and Carpet Tiles!
Thermal Insulation • Sound Protection • Radiant Heating
With FiberThermics® inside!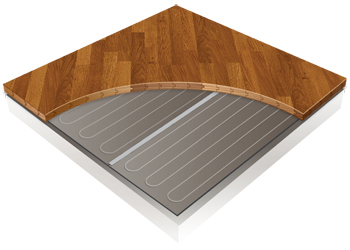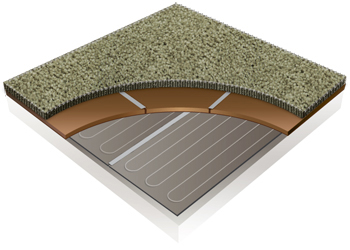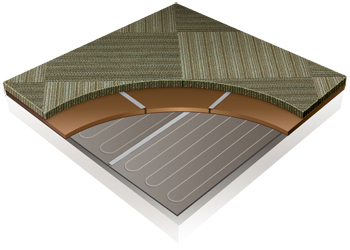 Enjoy the luxury of radiant warmth under your floating wood or carpet floors while reducing energy costs up to 40%! ThermoFloor is ideal for basements, kitchens, living or family rooms and any other room where laminate, floating wood or engineered wood flooring, wall-to-wall carpet, and carpet or vinyl tiles are desired. Also approved for use under floating snap lock tiles! With ThermoSoft electric radiant floor heat systems you can add warmth where you need it most - near the floor, not the ceiling.
There is no easier electric radiant floor heating system to install. Simply roll out the pads, duct-tape the seams together, lay the floor and make the electrical connections. No cement is required! ThermoFloor heating pads work for electric radiant floor heat, laminate radiant floor heating and wood floor heating.
Made with Insulayment™ sound and temperature insulating pad. Insulates the cold slab below while suppressing noise and warming your floor. The randomly air-laid filaments in the laminate under floor heat pad create a capillary affect to cushion the floor and absorb impact sound. No other laminate in floor heating or electric radiant floor heating system is constructed like it!
Minimizes raising the floor with ultra-thin (less than 1/8") heated pads that smooth out minor imperfections on the subfloor. The laminate radiant floor heating pads match the thickness of most laminate floor underlayment pads.
Installs on any structurally solid sub-floor: concrete, wood or vinyl for wood floor heating, electric radiant floor heat and laminate floor heat.
Installation-friendly 20' lead wires are connected to one end of each laminate under floor heat pad for easy routing and connecting to the thermostat.
Safety certified by ETL for electric radiant floor heating in the USA and Canada.
Made in the USA, we ship same day or next business day.
Save money on laminate in floor heating or wood floor heating by buying direct from Thermosoft, the manufacturer.
Our ThermoFloor® laminate radiant floor heating pads for floating floors will last a long time. The laminate under floor heating pads are well protected under your floor and warranted for 10 years, one of the longest in the industry.
Made with ThermoSoft's patented FiberThermics® electro-conductive fiber heating elements. Temperature self-limiting properties prevent overheating of your laminate floor heat and wood floor heating systems. The heating elements are insulated with cross-linked polymers to protect against moisture and damage.

US & Canadian credit cards are accepted.

We also ship to Canada!
No brokerage fees and hassle-free!

Click for details