U.S. Manufacturer
SINCE 1996
Call Toll-Free
844.703.0131
844.703.0131
8 a.m. - 10 p.m. CST
request
FREE Guide
All about floor heating
Thermotile
Radiant Floor Heating for Tile Floor
Top 11 Reasons Customers Choose ThermoTile® Under Tile Radiant Floor Heating: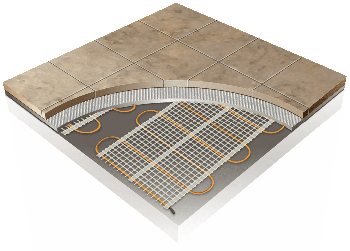 Saves money when you buy radiant floor heat or under tile floor heating systems directly from us, the manufacturer.
Installation-friendly 10' grounded lead wires are pre-attached to one end of the 1.5' wide radiant floor heating mat. You don't need to worry about where the in floor heating mat ends! Just cut the mesh and turn it any way to fit your floor space for warm tile anywhere.
"Zero EMF" (electromagnetic field). ThermoTile undertile radiant floor heating systems are manufactured, unlike any other heated tile floor system, with both a current return wire AND an inner foil wrap to eliminate EMF risk. This eliminates interference with telephones, radios, pacemakers, hearing aids and television. Without these features, other heated tile floor systems can act as a huge static-causing antenna under your heated floor.
Advanced overheat protection. We use our FiberThermics™ heating wires with self-limiting properties to eliminate overheating of the radiant under tile floor heating mats.
Four insulation layers including an outer alkaline and acid resistant Nylon layer that protects against moisture and mechanical damage in your undertile radiant floor heating system.
Commercial-grade fiberglass mesh that holds the heating cable flat for fast and easy installation and also acts as an anti-fracture membrane increasing floor strength.
ThermoTile floor heater, allows installation under virtually any floor covering including ceramic or porcelain tiles, stone tiles, carpet or vinyl tiles, laminate, glued wood when imbedded in self-leveling cement.
UL Listed in both the USA and Canada. So there is no need to settle for other heated tiles that claim UL approved components only.
Made in the USA and ships same day or next business day.
Lifetime Warranty of our floor warming system that can be transferred homeowner to homeowner¹

US & Canadian credit cards are accepted.

We also ship to Canada!
No brokerage fees and hassle-free!

Click for details