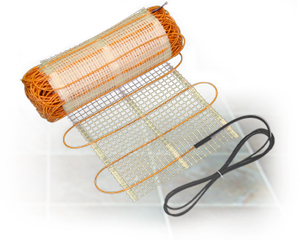 Shop ThermoTile Mats
Heating for Ceramic and Stone Tiles
Only 1/8" thick
Up to 150 ft.² per thermostat on 120V circuit
Up to 300 ft.² per thermostat on 240V circuit
12W per sq. ft.
Zero EMF™ (Electro-Magnetic Field)
Single 10' lead wire
Commercial-grade fiberglass mesh
Advanced overheat protection
Ideally suited for any floor:

Ceramic
Porcelain
Stone
Marble
Carpet with self-leveling cement
Vinyl with self-leveling cement
Laminate and Hardwood with self-levelling cement

Limited Lifetime Warranty
Example Floor Tile Layout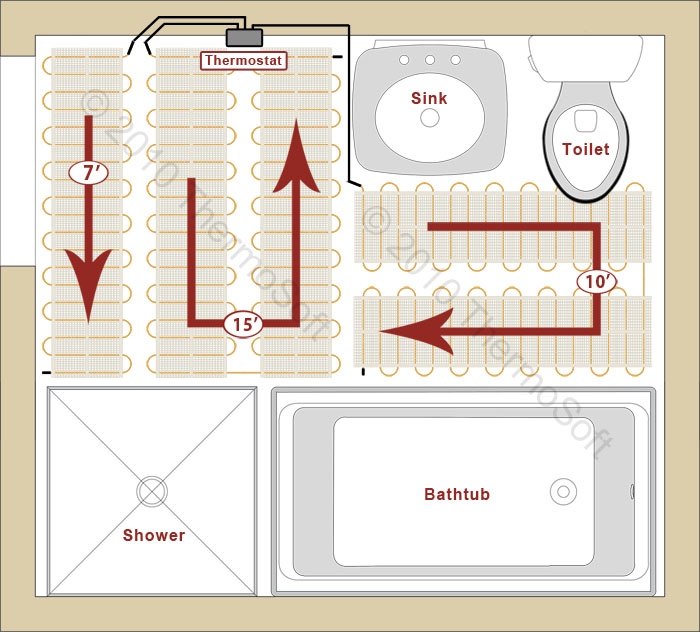 Enlarge


Combine several mats to cover heating area and connect them in parallel.
Select 120V Mats (Up to 150ft.² coverage per thermostat)
Select 240V Mats (Up to 300ft.² coverage per thermostat)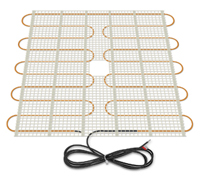 ThermoShower™ Mats
ThermoShower Mats are specially designed to fit standard shower floors with a 3.5" drain cutout hole for fast and easy installation. Installs like standard ThermoTile® mats for tile floors. Mesh allows for only one thin-set layer and on-site relocation of drain hole. UL listed for shower installation.
* Standard drain holes are center-located but can be custom-located.
Installation instructions
Select ThermoShower mats below
Floor Heating Thermostats
Installation Kits
Accessories

US & Canadian credit cards are accepted.

We also ship to Canada!
No brokerage fees and hassle-free!

Click for details