ThermoStrips™
Self-adhesive strips to cover the room perimeter in order to significantly simplify the installation of radiant floor heating system.
24" x 2" x 5/16" Synthetic cork strips
Pressure sensitive adhesive
Lightweight
Provides "soft joint" perimeter
Cuts with standard utility knife
No waste
Stackable to 15/16"
Synthetic cork material will not rot, support mold and mildew,
or absorb moisture
---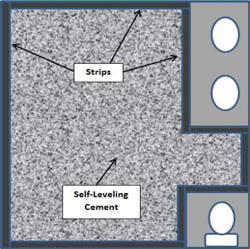 How to use ThermoStrips
when installing radiant floor heating mats using self-leveling cement:
Peel and stick the strips around the perimeter of the floor area to be leveled.
Install strips over any floor ducts - they will be easily cut out after the self-leveling cement is dry.
Strips used at the door thresholds will contain the self-leveling cement.
Install radiant floor heating system within the floor area to be heated and leveled.
Brush primer for the self-leveling cement over heating mat and onto the subfloor.
Mix the self-leveling cement as per manufacturer's instructions.
Pour the self-leveling cement up to the ThermoStrips allowing it to flow.
The self-leveling cement will flow to, and stop at the strips. The result will be a flush transition between the ThermoStrips and the self-leveling cement.
Leave in ThermoStrips and install finished floor after the self-leveling cement has completely dried.