2015-10-21
Underfloor heating systems are a cost-effective and energy-efficient way to heat your home. Floor heating systems heat your home more efficiently than other heating systems – including forced air systems, hydronic wall systems and electric baseboards – because they keep heat on you and your feet, instead of letting it rise to the ceiling.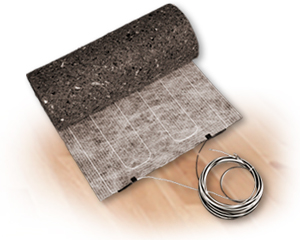 When it comes to floor heating systems, ThermoSoft offers the best products on the market. Over 1,400,000 households in North America use our electric heating products. One of our top-selling products is ThermoFloor, which is the world's only 3-in-1 radiant floor heating pad for wood, laminate, wall-to-wall carpet, carpet tiles and vinyl. This underfloor heating system insulates the slab, suppresses noise, warms your floor, and abates moisture. There is no other floor heating system like it.
The engineering and craftsmanship of ThermoFloor is what makes it so unique. This system is made with Insulayment, which is a sound and temperature insulating pad. Insulayment is engineered to insulate the cold slab below your tile, wood, laminate, vinyl or carpet floor, while also absorbing noise and heating your floor. The underfloor heat pad has air-laid filaments that form a capillary effect to absorb sound and cushion your floor.
ThermoFloor is also made with our patented FiberThermics electro-conductive heating elements, rather than traditional metal wires. FiberThermics has temperature self-limiting properties to prevent your underfloor heating system from overheating and is insulated with cross-linked polymers to safeguard your floor from moisture and damage. With the elite durability and safety properties of FiberThermics, ThermoFloor is specifically qualified to be in direct contact with flammable flooring materials, such as wood and laminate.
Along with providing superior insulation, sound-proofing, comfort and safety, ThermoFloor minimizes raising your floor and is very simple to install. The underfloor heated pads are less than 1/8" inches, and unlike other electric floor systems, they do not need to be imbedded into cement. To install your ThermoFloor, simply roll out the heated pads, duct-tape their seams together, lay the floor and form the electrical connections. The 20' lead wires get connected to one end of each underfloor heat pad, which allows for easy routing and connecting to your thermostat.
So, what are you waiting for? Say good-bye to cold floors and feet with ThermoFloor. Contact us today to install your floor heating system: 800.308.8057.