2015-11-13
Imagine waking up on a chilly winter morning and stepping out of bed onto a warm heated floor with your bare feet. Though at first reluctant to leave the comfort of your cozy comforter, you are instantly warmed up by your under floor heating system as you make your way through the house to start your day.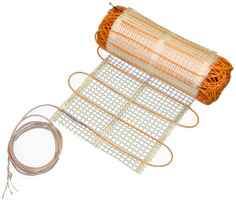 Installing an underfloor heating system is one of the best investments you can make. Though they've been around for many years, these systems have gained massive popularity in the past decade or so due to their great effectiveness. Heated floors are prized for their countless benefits, including delivering maximum comfort and energy savings. According to the U.S. Department of Energy, radiant floor heating can cut heating costs by 25 to 50 percent.
Underfloor heating systems are more effective than hydronic, baseboard and forced air systems because they heat a room from the ground the up. Floor heating evenly distributes heat across the whole floor, and the heat is supplied directly from the heated floor onto you and the objects in the room. A room's temperature is more constant compared to conventional heating systems, located in the corners of the rooms, in which the heat rises to the ceiling, cools and then falls toward the ground.
Electric floor heating systems use heat-conducting mats comprised of coils made from a material with high electrical resistance for generating heat. The wires zigzag through the mat and are wired for electricity and connected to a programmable thermostat. Floor heating can be installed to new and old constructions and a variety of different flooring types, including ceramic and stone tile, wood and laminate, carpet and vinyl. Electric heated floors are easy to install and can be installed by the homeowner.
To learn more about how floor heating works, contact us at ThermoSoft. We offer two leading floor heating systems that are ideal for all flooring types. No other floor heating systems can compare. Contact us now: 800.308.8057.