When you rent out your pad, it's not enough to throw down a few pillows on a ratty couch and hope for the best. If you want a 5-star review, you've got to provide guests a 5-star experience. And we know just how to do just that. Below, we've compiled a comprehensive list of all the ways you can attract bookings over your competitors and nab glowing reviews after guests finish their stay.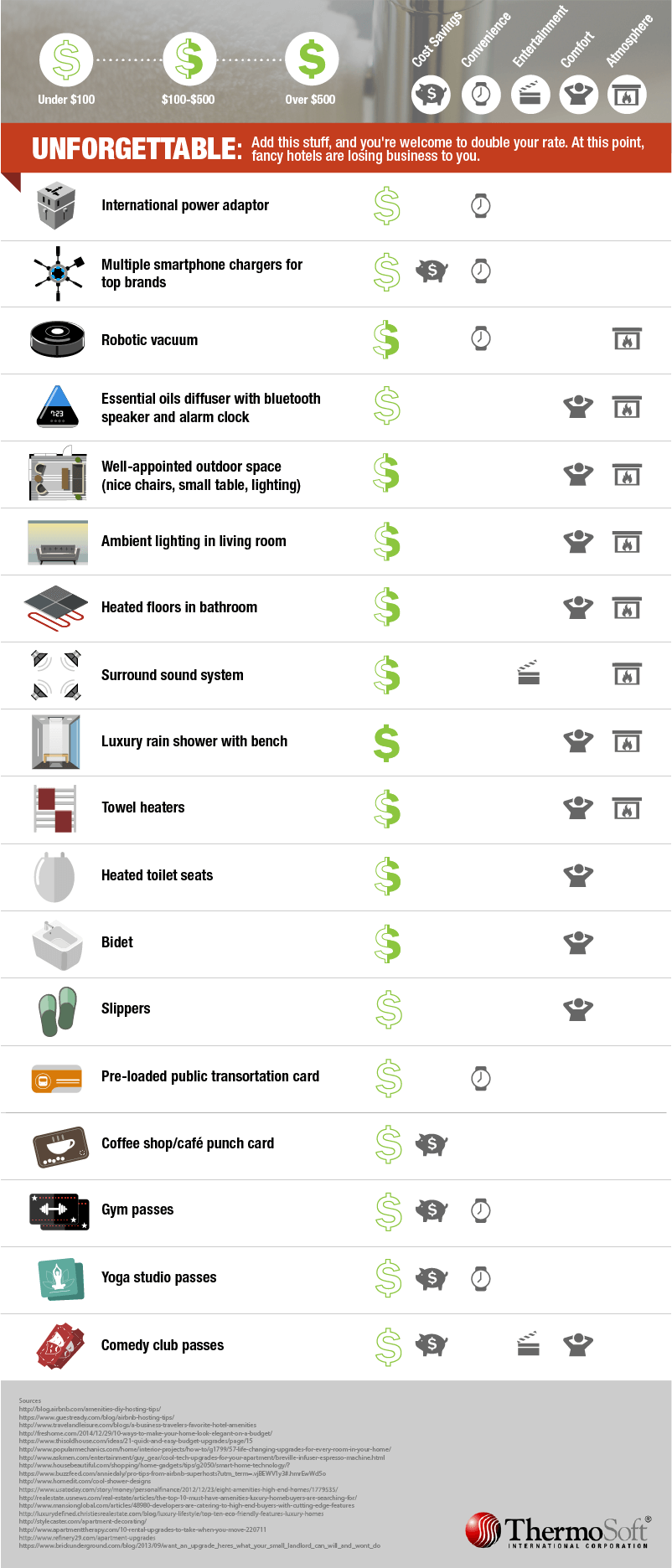 You want your listing to be competitive, right? At the most basic level, here's what some of your top competitors have stocked up on: non-alcoholic beverages, cooking oils and hygiene supplies. WI-FI isn't an issue, there's a code-based lock to enter, and guests know their recycling/composting options. No dirt or dust, either—your place must be clean.
A little effort, especially with personal touches, can go a long way to making a big impression. And good news: You don't have to spend big bucks. You could write a list of your favorite go-to activities, recommended restaurants, or even offer first-time Uber/Lyft passes. If you've talked to your guests beforehand, leave them something you think they'd like—maybe passes to a yoga studio, gym or comedy club. Throw in slippers and a yoga mat and your guests might confuse you for the Four Seasons.
There are some low-cost entertainment options you could add in, too. Books, board games, and a nice TV cable package won't set you back too much—and will keep guests entertained on rainy days. Bonus points if you want to install a surround sound system.
You can create your own "home away from home" for under $500 with fancy soaps, a nice coffee pot, a water filter and luxurious pillows/sheets/towels. A high-end mattress will cost more than $500, but adds to the comfort of a stay.
You want your guests to have an easy, hassle-free vacation at your home. Anticipate what your guests will need, by providing relatively low-cost items like a luggage rack, a toaster and USB charging ports/international power adapter.
Let's say you want to create a little atmosphere, but you're on a tight budget. Here are two quick fixes you could make for under $100: install remote control dimmers and blackout blinds. If you're willing to spend a little more, think about getting the walls repainted, add some new artwork or shop around for some stylish furniture. And if you want to go all out, splurge on a luxury rain shower with a bench. After your guests have been exploring your hometown all day, there's nothing better than coming back to a shower like that!