We continue our service to you: Our sales, phone support and rapid fulfillment remain unaffected by COVID-19. Read more...

U.S. Manufacturer
SINCE 1996
Radiant Floor Heating Accessories
Aube Thermostat
(120V Or 240V Programmable)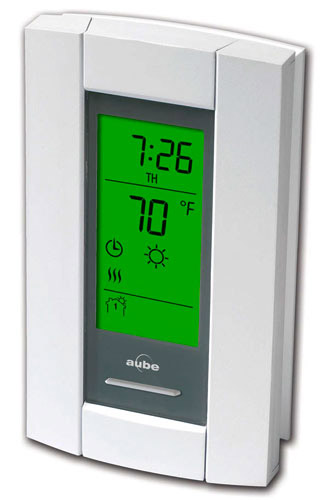 Be sure to match thermostat voltage to mat voltage.
Checkout
Click here to download instructions for this device.
Programmable thermostat
Universal Voltage (TH115 Series): Suitable for 120V or 240V applications
15A resistive.
Max. load 120V = 1,800 Watts; 240V = 3,600 Watts
4 time periods/day, 2 temperature settings
Built-in Class A 5mA GFCI with GFCI test light
Selectable 12-hour(°F) or 24-hour(°C) format
Three temperature control modes - ambient, ambient with floor limit and floor
ON/Standby switch enables thermostat shutdown at end of heating season for added security
Temporary bypass enables temperature override without changing programming
Advanced temperature control ensures total floor heat comfort by minimizing temperature variations
Battery-free backup means no re-programming your schedule after a power outage
Epoxy-soundproofed relay: Quiet operation
3 year manufacturers warranty
Dimension: 4.9x2.8x0.9 inches (124x70x23mm)
Made in China
Temperature Control
Temperature range: +40/+104°F (+5/+40°C) in floor setpoint range (F mode)
Accuracy: ±1.0°F/0.5°C
7 days, 4 time periods/day; 2 settings
Pre-programmed to suggested settings - or reset to your personal settings
F° or C° scale.
Easy Connections
Fits single gang box but a double gang is recommended for more room to work
Backside connection box dimensions: 1.6875"W x 2.625"H x 15/16"D
Simple wire-nut connections
---
Floor sensor included with each thermostat!
15ft (4.5m) cable
Proven quality
UL recognized
---
Brochures, manuals and datasheets