Key Thermosoft employees were stationed at the reception desk of the company's international headquarters in Vernon Hills, IL to warn visitors to avoid placing candy on their warm floors this Halloween. While it has long been known that candy can melt at elevated temperatures, (think of M&M's melting in your mouth but not in your hand), the association between warm floors and melting candy is relatively recent, owing to the increased popularity of heated flooring and the easy installation of modern electrical floor heating systems.
Candy can be compromised by the elevated temperatures of warm floors which can reach upwards into the low 80's (degrees Fahrenheit). While floor temperatures in the high 70's and low 80's are especially conducive to delightfully cozy Halloween evenings for people and pets, especially after long hours of trick-or-treating on a cool night, these temperatures can be compromising especially for chocolate.
Thermosoft is a USA manufacturer of electric radiant floor heating systems that are easy to install, affordable and energy saving. To assist the public in identifying candies susceptible to melting on warm floors, Thermosoft issued the following list:
Almond Joy, Baby Ruth, Butterfinger, Heath Bar, Hershey's Kisses, Kit Kat, Milk Duds, Milky Way, Mounds, 3 Muskateer, Nestle's Crunch, Nestle's Chocolate, Oh Henry, Raisinets, Reese's, Rolo, Snickers, Sno Caps, Payday, Peppermint Pattie, Tootsie Roll, Twix, Whoppers.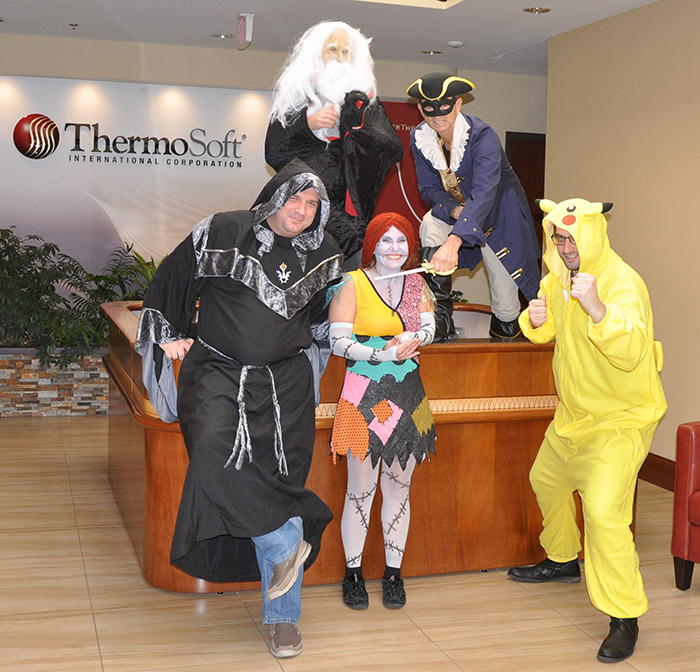 Top: Witch (e-commerce), Captain Morgan (marketing)
Bottom: Wizard (webdev), Sally (accounting), Pikachu (sales)
The above list is not all-inclusive and other candy types and brands may be affected by heated flooring. If unsure about which candies will melt on a warm floor, Thermosoft advises placing candy in an inconspicuous area of the floor under adult supervision. If melting commences, please include it with the above list and retain for future reference.
Hard and chewy candies may benefit from some floor warming to induce softening. These include Bit-O-Honey, Charleston Chews, Dots, Laffy Taffy, Mary Jane and Sugar Babies. If in doubt about the potential benefits of floor warming to soften hard and chewy candy this Halloween, please test as mentioned above.
Thermosoft wishes everyone with warm floors a safe and luxuriously comfortable Halloween. Don't have warm floors? There's still plenty of time to install heated flooring before Thanksgiving!