2015-06-26
A major challenge in everyday life is finding savings while at the same time finding ways to live a healthier life style. One of the biggest pushes happening for saving people money has been the installation of solar panels on their roofs because their cost has dropped. Along with making electricity for the house they keep the house from heating up as much during the summer which reduces the costs of cooling. Information is finally reaching more people and informing them of how much energy, and therefore money, is wasted on cooling and heating their homes each year. This has encouraged people to begin seeking new methods of powering, heating and cooling their home.
One of the best methods for reducing the cost of heating your home is via radiant heated floors. Heated floors not only save homeowners money on their heating costs but it also provides a healthier environment within the house.
Heated floors evenly distribute heat throughout your entire house and can be carefully controlled with a thermostat in each room. A conventional heating system isn't able to distribute heat through air being blown in or through a radiator system as evenly due to their placement being inherently unevenly distributed. This means these systems have to expend more energy to do the same amount of heating.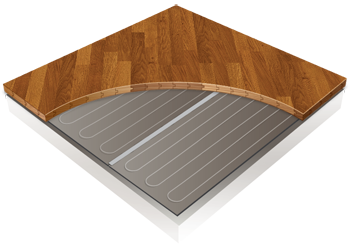 A radiant heated floor also has the advantage of having heat coming from the bottom up. Since hot air naturally rises, this will heat a room comfortably from bottom to top. Other heating systems heat the room up from about two feet or so up, but this means the floors are still ice cold. One of the biggest complaints from people in the winter is how cold their floor is, especially if it's not carpeted, like bathroom floors which often aren't.
Another benefit of heated floors is they don't require air vents throughout the building and the simple fact that they don't blow air. Many people don't realize the amount of dust and other small particulate matter which are blown into rooms from dry air heat. This can make breathing difficult for occupants especially those with allergies. Cleaning the filters and keeping ducts clean for hot air heat is time consuming and can be costly. Even if you're someone without allergies you will quickly notice a difference in your sleeping and breathing while at home and using a heated floor system.
Another advantage of a heated floor is you can install it yourself and you can do it one room at a time. If your bathroom is uncomfortable in the winter due to those cold tile floors you can easily install heated flooring in just that room. Then enjoy the benefits of having a comfortable bathroom floor.