2015-09-28
Tired of walking on cold floors? Whether it's a chilly morning or frigid winter night, walking around the house barefoot can be uncomfortable and lead to frosty feet. While you could toss on some slippers or lay down an area rug, the best way to never worry about cold floors again is with radiant floor heating.
Radiant floor heating is a cost-effective and energy-efficient underfloor heating system that utilizes the entire floor to heat your home. Unlike forced air systems, the heat will not rise to the ceiling or get lose in surrounding surfaces. Rather, it will keep heat where you need it most – on you and your feet. Heated floors are installed under your flooring and can be installed under laminate, wood, wall-to-wall carpet, ceramic and stone tile, vinyl and carpet tile. Along with providing optimal comfort, the best radiant heat flooring is ultra-thin and will not raise your floor.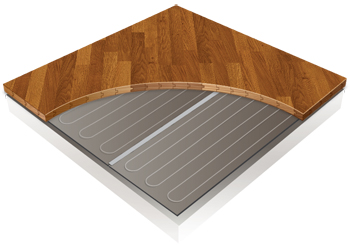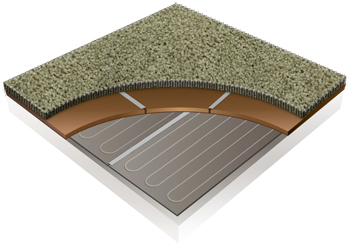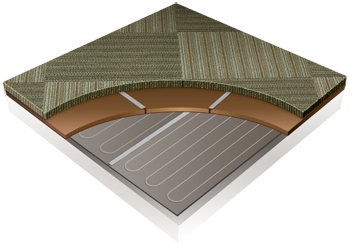 Here are some additional benefits of radiant floor heating:
It creates a more comfortable environment. Heated floors evenly deliver heat across the entire floor surface. The heat then radiates upward to distribute an even and efficient supply of heat. It warms your feet and legs, while also keeping the top of the room at a moderate and comfortable temperature.
It's out of sight. With heated floors, your heating system is out of sight. You don't have to worry about unsightly vents, heat pumps or furnaces, and it won't affect your furniture layout or interior design scheme. Radiant floor heating is as aesthetically pleasing as it is effective.
It's safe. ThermoSoft's heated floors are made with its patented FiberThermics electro-conductive fiber heating elements and insulated with cross-linked polymers. These features prevent the flooring from overheating and protect against moisture and damage.
It won't upset your allergies. Radiant floor heating provides a healthy way to heat your home. Because underfloor heating slowly radiates heat upward, it doesn't force up dust and other allergens or circulate them in the air like forced air systems do. This makes heated floors the top choice for allergy patients.
It saves money and energy. Because heated floors effectively distribute heat, most people feel comfortable setting their thermostats at a lower temperature. According to the American Society of Heating, Refrigeration and Air Conditioning Engineers (ASHRAE), radiant heating system users are more comfortable at temperatures six to eight degrees Fahrenheit lower in comparison to conventional systems like forced-air and baseboard heat. Heated floors help you cut back on your energy usage, as well as your utility bills.
It can be installed to new and existing floors. Whether you're building a new property or looking to upgrade your home's heating system, installing radiant heat flooring is quick and easy.
As you can see, there are many benefits to using an in floor heating system. ThermoSoft is a leading manufacturer of radiant floor heating and has serviced over 1 million households across the U.S. and Canada. To learn more about ThermoSoft's heated floors, contact 800.308.8057 today.